The team of 𝐂𝐨𝐚𝐥𝐢𝐭𝐢𝐨𝐧 𝐟𝐨𝐫 𝐕𝐨𝐥𝐮𝐧𝐭𝐞𝐞𝐫𝐢𝐧𝐠 is pleased to invite you to the 𝐕𝐎𝐋𝐀𝐑𝐄 𝐈𝐧𝐭𝐞𝐫𝐧𝐚𝐭𝐢𝐨𝐧𝐚𝐥 𝐂𝐨𝐧𝐟𝐞𝐫𝐞𝐧𝐜𝐞 - 𝐕𝐨𝐥𝐮𝐧𝐭𝐞𝐞𝐫𝐢𝐧𝐠 𝐋𝐞𝐚𝐝𝐞𝐫𝐬𝐡𝐢𝐩 & 𝐀𝐝𝐯𝐨𝐜𝐚𝐜𝐲: 𝐟𝐫𝐨𝐦 𝐑𝐨𝐦𝐚𝐧𝐢𝐚 𝐭𝐨 𝐄𝐮𝐫𝐨𝐩𝐞, which will take place at the Rin Central Hotel, 𝐁𝐮𝐜𝐡𝐚𝐫𝐞𝐬𝐭, 𝐨𝐧 𝐍𝐨𝐯𝐞𝐦𝐛𝐞𝐫 𝟐𝟒𝐭𝐡 𝐚𝐧𝐝 𝟐𝟓𝐭𝐡, 𝟐𝟎𝟐𝟐.
The conference is designed as a space for learning, cooperation, and setting common advocacy goals in the field of volunteering. It will be an event for the exchange of experiences, and know-how - activities that aim to bring together all the voices involved in the context of volunteering in Romania for a functional and sustainable volunteering sector.
The conference will be an event with 𝐞𝐱𝐭𝐞𝐧𝐬𝐢𝐯𝐞 𝐩𝐚𝐫𝐭𝐢𝐜𝐢𝐩𝐚𝐭𝐢𝐨𝐧, 𝐛𝐨𝐭𝐡 𝐧𝐚𝐭𝐢𝐨𝐧𝐚𝐥𝐥𝐲 𝐚𝐧𝐝 𝐢𝐧𝐭𝐞𝐫𝐧𝐚𝐭𝐢𝐨𝐧𝐚𝐥𝐥𝐲. We will have the pleasure to learn and share with our partners from the
Norges Frivilligsentraler
organization in Norway - 𝐼𝑛𝑔𝑒𝑙𝑖𝑛 𝐵𝑒𝑟𝑔𝑣𝑎𝑙𝑙 and 𝐺𝑖𝑗𝑠 𝑀𝑎𝑛𝑠, as well as from 𝐿𝑒𝑗𝑙𝑎 𝑆̌𝑒ℎ𝑖𝑐́ 𝑅𝑒𝑙𝑖𝑐́, President of CEV - Centre for European Volunteering, 𝑆𝑡𝑢𝑎𝑟𝑡 𝐺𝑎𝑟𝑙𝑎𝑛𝑑 from Volunteer Ireland and 𝑀𝑖𝑟𝑛𝑎 𝑆𝑜𝑠𝑡𝑎𝑟𝑘𝑜 from Croatian Center for Development of Volunteerism. Subjects like advocacy in volunteering, trends, and challenges, digitalization in volunteering or crisis volunteering are part of the event agenda.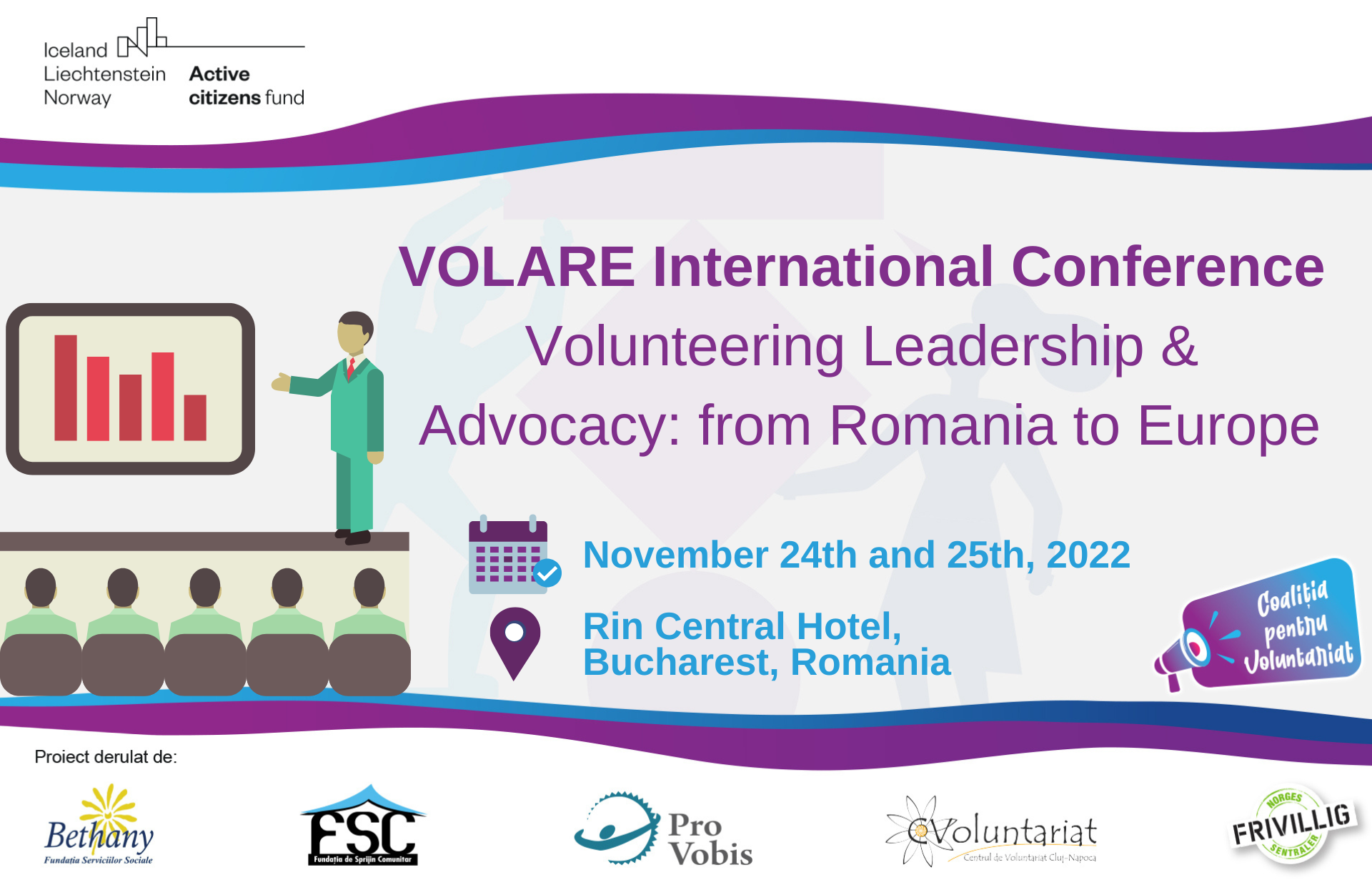 Vezi mai jos agenda conferinței:
VOLARE - Conference Agenda by Pro Vobis

𝐕𝐎𝐋𝐀𝐑𝐄 𝐈𝐧𝐭𝐞𝐫𝐧𝐚𝐭𝐢𝐨𝐧𝐚𝐥 𝐂𝐨𝐧𝐟𝐞𝐫𝐞𝐧𝐜𝐞 is organized as part of the Coalition for Volunteering project, which aims to strengthen the volunteering movement in Romania as a means of involvement and civic awareness, by taking the necessary steps to supplement the Volunteering Law with a public policy document and by facilitating the access of citizens and organizations to advocacy actions to cause systemic changes in the field of volunteering at the local and national level.
Working together for a competitive and inclusive Europe!