The VOLUM Federation was created to ensure a relevant dialogue between organizations involving volunteers in Romania, public authorities, institutions, private companies and any other factors interested in the development of volunteering in our country.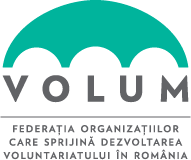 Pro Vobis - The National Resource Center for Volunteering initiated and founded the Federation, through the Volume for the Development of Volunteering in Romania - funded by the Governments of Iceland, the Principality of Liechtenstein and Norway through the Financial Mechanism of the European Economic Area and co-financed by the C.S. Mott Foundation.
The project took place between December 2009 and December 2010 and aims to increase the capacity for effective dialogue of the actors of the Romanian volunteer movement with public authorities by bringing together organizations, institutions, companies and other stakeholders interested in the development of the Romanian volunteer movement.
The VOLUM Federation is a non-governmental organization with the role of an umbrella association in the field of volunteering, with national representation. It currently has over 87 member organizations, which in turn manage approximately 23,000 volunteers.
The mission of the VOLUM Federation is to facilitate the dialogue and common action of all the factors interested in the volunteer movement, in order to sustainably develop volunteering in Romania.
VOLUM Federation Vision is a Romanian society in which volunteering is an accepted, supported and recognized movement for its contribution to cohesion, inclusion and social solidarity and respect for people and the environment, based on the individual and institutional assumption of social responsibility manifested by volunteering.
The main initiatives and activities of the VOLUM Federation:
For the moment, since 2019 the VOLUM Federation has had to limit its activity due to lack of financial resources dedicated to supporting the secretariat of the Federation.